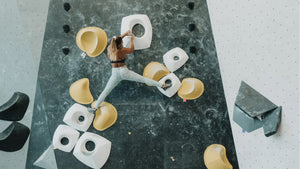 We are committed to providing quality, functional products that are proven to last.
In a nutshell
From storing holds, to route setting and washing away the chalk and rubber. We
have products to get you thru the entire process. We have a diverse offering of some of the best brands from around the world. Save time and money by getting
all your gear in one spot. Our experienced specialists will help you assemble the best packages to meet your gyms needs.
Our Mission
THR is devoted to keeping your setting program running as smoothly and efficently as possible. We want to see the setters creating, not cursing. The proper tools and systems are the key to their success. We take the time to test equipment so you dont have too.
Our Drive
In a time when everything seems to be changing faster by the day, there are major factors we believe drive success. Staying true to your core vision and
providing quality. We at THR believe in helping make each and every facility the best version of itself. Taking the current hot trends and adapting them to your vison and business model is part of what sets us apart from the rest.
Expertise
THR is owned and operated by longtime industry professionals. There is no substitute for experience. Our team is comprised of gym owners, proffesional route setters, competition chiefs, and gym managers. Each one understands what it takes to get the job done in their field and they are here to put that experience to work for you.